Love & Hugs for Zusman Hospice
What is Love & Hugs for Zusman Hospice?
Upon admission, Zusman Hospice patients are given the opportunity to choose a stuffed bear to keep with them during their end-of-life journey. For many patients, their bear provides comfort when a family member is not able to be with them. For families, it often becomes a treasured keepsake.
The bears are generously provided to Zusman Hospice by the volunteer organization Love & Hugs for Zusman Hospice. This organization raises money to support events in which participants have the opportunity to learn about hospice and end-of-life care, then build and clothe a bear in memory of a loved one of their own.
Founded in 2012, Love & Hugs for Zusman Hospice has been supported by local grants and donations. So far, the organization has provided Zusman Hospice patients with more than 1,800 bears.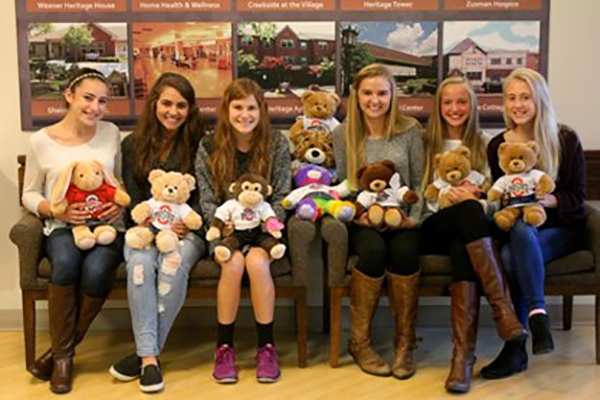 Members of the current Love & Hugs for Zusman Hospice Teen Advisory Board
For more details on the impact of Love & Hugs for Zusman Hospice,  read the organization's Love & Hugs Fact Sheet.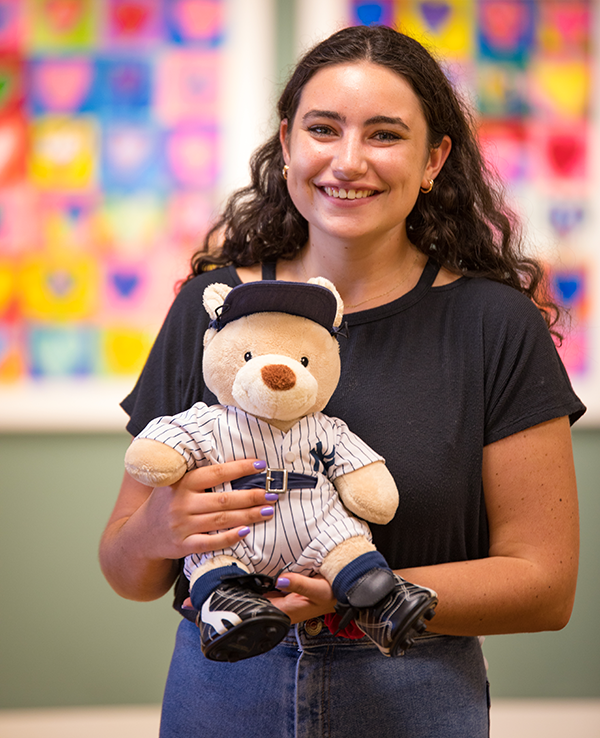 Love & Hugs for Zusman Hospice was founded in 2012 by Bexley teenager Emily Cammeyer, as part of her preparation for becoming a Bat Mitzvah.
In 2013, Cammeyer received the Rose & Sam Stein Award for her work to create and sustain the Love & Hugs program for Zusman Hospice by the Midwest Care Alliance.
In 2015 and 2017, based on her efforts to support Zusman Hospice patients and their families as well as educate her peers about hospice care and end-of-life issues, Emily was chosen from hundreds of applicants and named a National Semi-Finalist for the Diller Teen Tikkun Olam Award, which recognizes teens efforts to "repair the world."
Since then she has been recognized by Whitehall-Bexley Rotary, the Bexley Board of Education and, most recently, the Ohio Commission on Service and Volunteerism.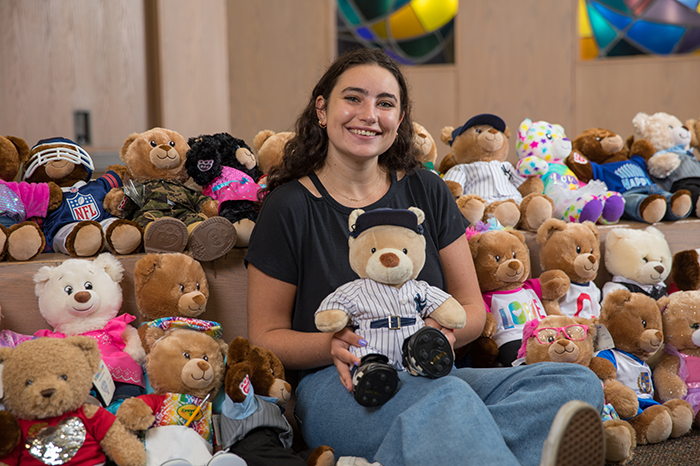 Get involved.
The Love & Hugs Adopt-A-Den Program is an easy and flexible way to participate as an individual, family, organization or business. Host an event, organize a collection or sponsor a full or partial "den" by raising and donating some or all of the cost of the 40 to 50 bears needed each month ($1000 to $1250). Click here for more details and how to get started.
The Adopt-A-Den Program launched in early 2015. Participants include:
The Ohio State University Hillel
Prologis
Columbus JCC
Maccabi
Skyler and Kate Hogan
Zack Yablok
PJ Library Columbus
Sam Nahem
The Anderson, Powers & Walker Families
The Fireman Families / ECDI
Temple Israel Religious School 8th Grade
Tikkunapalooza/Temple Israel
Wexner Heritage Village
Build your own Love & Hugs tradition.
Some families find building bears and donating them to Zusman Hospice each year is a meaningful way to remember loved ones who have passed away. Others like to incorporate this activity into their celebrations of special birthdays, holidays and anniversaries. Whatever the reason, click here for instructions and a special discount from Build-A-Bear Workshop.
Learn more about Love & Hugs for Zusman Hospice.
For more information about upcoming events and to see photos from previous bear-building events, visit us on Facebook.
The below video was debuted during the 5th anniversary celebration of Love and Hugs for Zusman Hospice. Please watch to see how Love & Hugs for Zusman Hospice has touched the lives of patients and familes.
In the News
Click here to see what The Columbus Dispatch has to say about Love & Hugs for Zusman Hospice.
View the video to see how one young person's Bat Mitzvah project and love for her great grandmother inspired a program to bring comfort at Zusman Hospice.
GIVE
To give to our "Love & Hugs Endowment Fund" to help support the supply of bears as well as the enhancement of additional therapies to our program, please click here or send your check (made out to "Love & Hugs Endowment Fund") to Columbus Jewish Foundation, 1175 College Avenue, Columbus, Ohio 43209
"*" indicates required fields